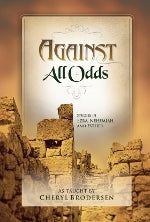 twft.org
Against All Odds - DVD/MP3
Regular price
$33.99
Sale price
$39.99
Unit price
per
SKU: 828147617048
The joy of the LORD is your strength. Nehemiah 8:10
Welcome to the Against All Odds Bible study in Ezra, Nehemiah, and Esther. Praise, prayer, and promises are some of the exciting results of this dramatic in-depth teaching of these historical Old Testament books. See how God rebuilt the temple, restored the wall, and redeemed His people in this drama of redemption.
God desires to rebuild, restore, and redeem you as He did the Jews. You may be experiencing disappointment and discouragement, facing ruthless and relentless opposition and oppression, and finding ruins and rubble where you hoped for salvation and security. God will victoriously overcome these obstacles in your life even as He did centuries ago. Come and experience the glory of what only God alone can do!
The Against All Odds disk pack includes all twenty messages taught by Cheryl Brodersen at Calvary Chapel Costa Mesa in a DVD format. Also included in the pack are the audio messages on an MP3 disk.
20 Messages
Cheryl Brodersen has been teaching Bible studies since she was a young girl. Her love and passion for God's Word is infectious as she expounds His Word to women. She is the wife of Pastor Brian Brodersen, the mother of four grown children and the grandmother of three adorable grandsons.
---