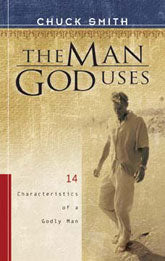 twft.org
The Man God Uses - Paperback
Regular price
$10.19
Sale price
$11.99
Unit price
per
SKU: 9781931713481
In the book, The Man God Uses, Pastor Chuck examines the scriptures and details the godly characteristics needed to be an instrument for God to use.
Qualifications such as: Giving God the glory Submitting to God Uncompromising Obedient Faithful service Spirit-filled Spirit-led
We encourage you to read this book, and not only apply it to your own life, but also to learn ow to pray for others. And pass it on.
119 Pages
Available as an eBook - Click Here
---