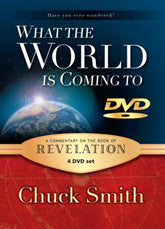 twft.org
What the World is Coming To 4 DVD PACK
Regular price
$22.09
Sale price
$25.99
Unit price
per
SKU: 9781932941852
Taken from a recent series on the book of Revelation, these messages will help you understand one of the most enigmatic and prophetic books of the Bible.
Know for his ability to make the Scriptures come alive, Pastor Chuck Smith explains and dissects Revelation, chapter by chapter—the only book of the Bible that declares a blessing on those who read and hear it!
Additional information: 4-DVD Disc Set 7 Messages, approx. 1 hour each. Overview of Revelation taught by Chuck Smith, recorded at Calvary Chapel Costa Mesa in 2002.
---