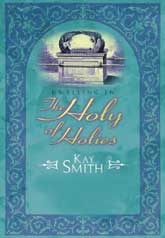 twft.org
Dwelling in the Holy of Holies - MP3
Regular price
$11.04
$0.00
Unit price
per
SKU: 9781931713757
Are you an "outer court" Christian? The "outer court" Christian has just enough salvation to ensure heaven. They come on Sunday mornings, but they have no prayer life, no fruit–they rarely witness and they're ineffective in the world.
Kay Smith teaches women to draw closer to the Lord, helping you to understand your relationship with Him, and bring you into that place where you were created to dwell–in the Holy of Holies.
Christ's death caused the veil to be torn away, so that believers could enter into the Holy of Holies, where they could live in God's presence. But many Christians stay in the Outer Courts.
But then there are people who have moved beyond the Outer Court. They love the Lord and have a restlessness of spirit that draws them closer to Him. Because of their love, they move into the Holy of Holies¬–a beautiful place where believers were meant to be.
The study guide is available in this MP3 CD to download.
---