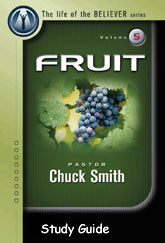 twft.org
Fruit: Life of the Believer Vol. 5 Study Guide Workbook
Regular price
$4.24
Sale price
$4.99
Unit price
per
SKU: 9781931713054
He who abides in me, and I and him, bears much fruit... John 15:5
Those who "abide in", Jesus will bring forth much fruit, for that's the work of the Holy Spirit in the believer's life. God did not send His Son to save us so that we could be idle. His desire is that we bear "much fruit" to glorify Him. Over and over, the Scriptures direct us to probe our hearts and consider our ways. We should judge ourselves so that God does not judge us.
Let us ask the Lord to examine the fruit in our life. Is it acceptable? We should look at our fruit through the eyes of Jesus; it should be a work that exalts God, and not us. Only then will the fruit be pleasing to our Lord Jesus Christ. Without love, it profits nothing. 
24 pages
Designed to be used with the Fruit: Life of the Believer Vol. 5 CD PACK, 9781931941142
The Life of The Believer Series
This Collection is specifically designed to encourage and strengthen the believer in various aspects of the Christian life. Excellent for new believers seeking to build a solid foundation or for more mature believers desiring to remind themselves of essential truth.
---