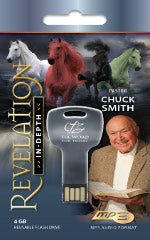 twft.org
Revelation In-depth Commentary - MP3-USB Flash Drive
Regular price
$33.99
Sale price
$39.99
Unit price
per
SKU: 828147648028
GOD'S WORD REVEALED
We invite you to listen to and enjoy over 70 audio messages taught by Pastor Chuck from 1986 to 1988. See for yourself how the book of Revelation is as pertinent and relevant today as it was when these messages were first recorded—and when the Apostle John penned it through the inspiration of the Holy Spirit.
In this in-depth commentary on the book of Revelation, Pastor Chuck expresses concepts and conclusions drawn after many years of study. We do not ask you to accept them, but we urge you to search the Scriptures to see if these things be so.
Includes 70 audio MP3 files on a 4 GB reusable key flash drive.(FAT32).All sales final. Non-returnable item.
Designed for use on computers only
---