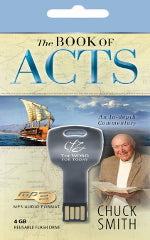 twft.org
Acts Commentary In-depth - MP3-USB Flash Drive
Regular price
$33.99
Sale price
$39.99
Unit price
per
SKU: 828147647076
Glean from Pastor Chuck Smith as he teaches an in-depth commentary on the book of Acts.
"Through the years, I have had the privilege of seeing the miraculous work of the Holy Spirit in the growth of the Calvary Chapels. Thus it is my desire to pass along the basic principles we have learned along the way, many learned the hard way, but these are fundamental principles that God has blessed. They express God's intention for the church and are to be found in this in-depth study of the book of Acts." - Pastor Chuck Smith
"Pastor Chuck has a uniquely beautiful way of "taking the hay out of the loft and putting it on the barn floor where the cows can eat it!" And this caused me to be oh-so-deeply-impressed ... with Jesus. Thus, it is with a heart of expectancy and anticipation I wholeheartedly commend this commentary to you." - Jon Courson
Includes 136 audio MP3 files on a 4 GB reusable key flash drive (FAT32).All sales final. Non-returnable item.
Messages originally given from 1999-2004
Also available in a paperback book – click here
Designed for use on computers only
---