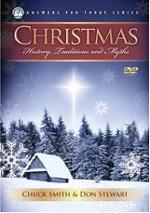 twft.org
Christmas: History, Traditions, and Myths - DVD
Regular price
$11.04
Sale price
$12.99
Unit price
per
SKU: 828147610049
Pastor Chuck and Don answer why we celebrate the birth of Jesus on December 25th, and answer questions surrounding American Christmas traditions, history and myths.
Content includes:
• Why do we celebrate Christmas on December 25th? • Origins of the Christmas tree • The History of Santa Claus • What is Yuletide? • What does Mistletoe have to do with Christmas?
This DVD will educate and equip you about the Christmas holiday to be able to discuss the birth of Jesus with others.
Bonus feature: Pastor Chuck reads to you the true Christmas story found in the gospel of Luke, a special treat for your family gathering on Christmas. Special music included.
---