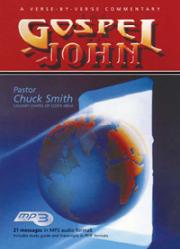 twft.com
Gospel Of John MP3 Disc
Regular price
$22.09
Sale price
$25.99
Unit price
per
SKU: 9781932941449
The Gospel of John is one of the greatest testaments of God's unfailing Word for a Christian, as well as to the unbeliever.
The Apostle John declares his purpose in writing this gospel in John 20:31, But these are written, that you may believe that Jesus is the Christ, the Son of God, and that believing you may have life through His name(NKJV).
In this fascinating verse-by-verse commentary, Pastor Chuck Smith illustrates this book of the Bible with simplistic understanding, creating a desire for believers and unbelievers alike, to know Jesus more intimately.
21 messages in MP3 audio format
Study Guide in PDF on mp3 disc.
---