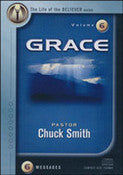 twft.com
Grace: Life of the Believer Vol. 6 CD PACK
Regular price
$19.54
Sale price
$22.99
Unit price
per
SKU: 9781932941135
Join Pastor Chuck as he teaches the key to knowing and accepting God's grace. Sin is like the disease of leprosy-incurable. Completely painless, leprosy kills the nerves. Likewise, sin deadens us to the fact that we are killing spiritually. God's grace is the only hope for the sinner-that's what the gospel of Jesus Christ is all about. What is impossible for a man, having the guilt of sin taken away, is possible for the Lord You have been forgiven and restored. You can be cleansed, washed, and made as white as snow. One touch from Jesus from Jesus takes it all away. One Divine act of grace freed you from sin's power. You can manifest this gift in your life, sharing it with the world.
Contains 6 messages by Pastor Chuck pertaining to an essential area of grace which are: God's Grace, Riches of Grace, All Sufficient Grace, Overwhelmed by Grace, Saved by Grace, The Gospel of Grace
Designed to be used with the Grace: Life of the Believer Vol.6  Study Guide Workbook, 9781931713177
The Life of The Believer Series
This Collection is specifically designed to encourage and strengthen the believer in various aspects of the Christian life. Excellent for new believers seeking to build a solid foundation or for more mature believers desiring to remind themselves of essential truth.
---