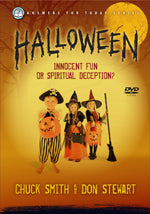 twft.org
Halloween Innocent Fun or Spiritual Deception? - DVD
Regular price
$12.74
Sale price
$14.99
Unit price
per
SKU: 828147608046
The Word For Today is pleased to present a Halloween DVD featuring Pastor Chuck Smith and Don Stewart, co-host of Pastors Perspective.
Join Pastor Chuck and Don as they answer America's questions and concerns regarding the most-celebrated and profitable holiday, next to Christmas.
.
.
Content Includes:
• The background and origins of pagan practices and occults associated with Halloween
• The Scriptures that testify to the significance of demons and demonologies
• What the Bible says about magic, witchcraft, sorceries, and spiritism
• Today's relevance of the effects of Halloween upon our society and culture
Pastor Chuck responds to those who doubt the harms associated with Halloween.
This DVD is sure to educate you about this secular celebration in order to equip believers with helpful information to defend the Christian faith and give a rational answer built on solid, reasonable evidence.
Run-time approximately 60 minutes
---