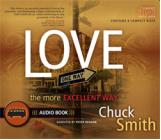 twft.org
Love The More Excellent Way - Audio Book
Regular price
$16.99
Sale price
$19.99
Unit price
per
SKU: 9781597510790
Now available for the first time, an audio book by Pastor Chuck Smith.
We're excited to present an unabridged audio book from the book, Love: The More Excellent Way by Chuck Smith. It is narrated by Peter Benson on 8 compact discs.
Author and pastor Chuck Smith has spent a lifetime pondering the nature of genuine love—God's love for us, our love for God, and God's love poured out through us to others. Experience what true love is, what it does, and how it transforms everything it touches in this new audio book.
This is a great gift that can change lives. Spread the gospel message of love to family and friends this year, in an easy-to-understand style as taught only by Pastor Chuck.
What People are Saying:
"It was a love he and his wife, Kay, had in their hearts from the Lord to reach out to a lost generation of kids in the 1960s, which resulted in the Jesus People Movement in Southern California. I am proud to say that I was one of those kids. This is distilled truth that can potentially change your life. I highly recommend it." Pastor Greg Laurie
"I have been encouraged greatly by the teachings of Chuck Smith over the years, and he has once again continued the encouragement by showing the beautiful depth of God's love for us."Jeremy Camp
"In the 1970s, when the world proclaimed a false and empty love—the love of God was poured out through the ministry of Pastor Chuck Smith. I was one of a generation transformed through his message. I know this book is going to change people's hearts forever." Pastor Raul Ries
"In a day and age when love is constantly redefined, Pastor Chuck takes us to the core definition: God is love. The book has challenged me to love in ways beyond me … sacrificially." Pastor Pancho Juarez
"With all of the books I have read from Pastor Chuck—and I've read them all—this book touched me the most. I felt like I was on the mountaintop, and I didn't want to come down. I will definitely get this for my friends." Christa Maletta, The Word For Today Customer Service rep for over 25 years
---