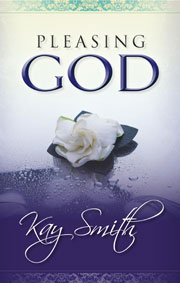 twft.com
Pleasing God
Regular price
$13.59
Sale price
$14.99
Unit price
per
SKU: 9781597510851
Life is full of choices.
In Pleasing God, Kay Smith exhorts and encourages women to think of God first and to live with His pleasure uppermost in mind. In a style that is uniquely Kay-candid, humorous, firm, but also compassionate- this beloved teacher reveals the secret to a simplified life, living it as a fragrant offering to God. Learn how to put sin in its place, yield to the Holy Spirit, praise God through trials, and offer Him even the smallest part of your life as an act of worship.

You've been given one life. The choice of what you do with it belongs to you. You can live it unto yourself, pursuing your own pleasure, or you can offer it back to the One who breathed life into you, redeemed you from hell, and gave you the promise of heaven.
Pleasing God journal is a great companion to this book
---