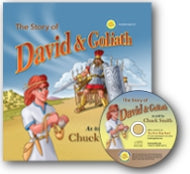 twft.org
The Story of David and Goliath - HardbackIncludes Audio CD
Regular price
$8.49
Sale price
$9.99
Unit price
per
SKU: 9781597511025
Lions … Bears … and GOLIATH!
Listen and read along as Pastor Chuck unfolds The Story of David and Goliath to every boy and girl. Come along on a great adventure and discover how God used David to defeat a big, scary giant and learn why David believed that God was big enough, even to conquer Goliath! See why David trusted the Lord with all his heart and won the battle for Israel, though the circumstances seemed impossible. Now you can use this story to teach your children the godly lessons on how to trust in the Lord and be used by Him.
It's never too early to start reading to your children timeless Bible stories taught by Pastor Chuck. Imprint God's Word upon their little hearts as you read this story over and over again.
Includes audio CD of Pastor Chuck narrating The Story of David and Goliath 40 full-color illustrated pages Reading level: Ages 2-8
---