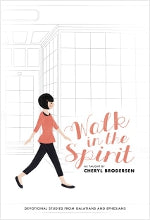 twft.org
Walk in the Spirit - DVD w/MP3
Regular price
$33.99
Sale price
$39.99
Unit price
per
SKU: 828147650038
Have you ever felt defeated as a Christian? Has your association with Jesus ever seemed like a duty rather than a delight, a burden rather than a blessing, or rules rather than relationship?
These epistles, written to the Galatians and Ephesians, will establish you firmly in the faith. They will help you to walk in the Spirit so that your own walk will become delightful, blessed, and fruitful.
As you study these epistles, be sure to take inventory of all God has done for you and given you through Jesus. Let these blessings be your motivation and strength as you seek to walk in the Spirit. Includes 21 messages on taught by Cheryl Brodersen at Calvary Chapel of Costa Mesa in DVD format. Also included in the pack are the audio messages on a MP3 disk.
---