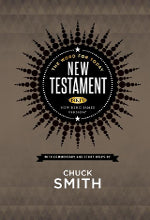 twft.org
WFT Bible New Testament - NKJV
Regular price
$8.24
Sale price
$10.99
Unit price
per
SKU: 9781597510738
This New Testament is loaded with essential features.
In conjunction with Chuck Smith's original commentary notes, this New Testament will introduce you to who Jesus is and what He did for you, explain foundational truth contained in Scripture, and teach you how to apply God's Word to your everyday life.
Features Include: • Words of Christ in red • 30–Day reading plan • A Guide to Bible study • How Can A Man Be Born Again? written by Chuck Smith • Biblical Definitions • A-Z Topical Index for Christian Living
Frequently asked questions such as: Why did Jesus die on the cross? Is there any evidence for the resurrection of Christ? What is God's will for my life? Does God send men to hell?
544 pages Trim size:5.5 x 8.25 Font size of Bible text: 9.5 (large print) Discount pricing available for case quantities
---