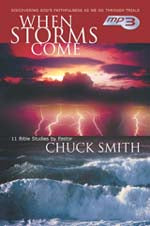 twft.org
When Storms Come - MP3
Regular price
$13.59
Sale price
$15.99
Unit price
per
SKU: 9781931713665
11 messages by Chuck Smith
Whether we want to or not, we will all face trials, tribulations and persecutions at one time or another.
What does the Word of God say?
Taken from a variety of Bible studies by Pastor Chuck Smith, this MP3 brings encouragement to those who are struggling with life's burdens. From the ability to discern spiritual warfare and how it can affect our emotions, to the realization that God is intimately aware of everything we are going through, these messages bring both hope and peace to the weary.
Messages:
Eyes to See With You in the Storm He Hears, He Sees, He Knows The Cure for Depression Count It All Joy Troubled Hearts Peace that Passes Understanding Conquering Fear What to do with Your Cares Why God Allows Suffering Do Your Best and Commit the Rest
Available in a book -When the Storm Hits - Click Here
---