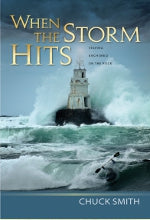 twft.org
When the Storm Hits - Paperback
Regular price
$11.04
Sale price
$12.99
Unit price
per
SKU: 9781597511186
Caught in a storm? The Lord stands by you, His purpose sustains you, and God's Word will encourage and guide you through the darkness. Are you feeling overwhelmed by the waves? Get anchored on Jesus, the Rock, and do not let go until the sun reappears. The Lord's promise, "I will never leave you nor forsake you," is a certainty that will never fail.
Troubles come to all of us at one time or another, and even the strongest faith can sometimes waiver as hope for a brighter future seems to dim.
In When the Storm Hits, Pastor Chuck Smith brings encouragement to anyone struggling with life's burdens. From the ability to discern spiritual warfare and how it can affect our emotions to the realization that God is intimately aware of the storms we are going through, this book will restore hope and peace to the weariest of believers.
God may not always deliver us from the storms of life, but He is always faithful to be with us as we go through them.
 Available as an e-Book - Click here
Available in Audio - When Storms Comes MP3 -Click Here
---